At Home
About At Home
4315 Washington Street
Schnecksville, PA 18078
Phone:
(610) 820-8301
Fax:
(215) 827-5675
Ownership type: Proprietary
Date certified: 12/01/2006
Provides services to: children, adults, seniors
Service Area for At Home
Each ZIP code that At Home serves is highlighted on the map above.
Other Nearby Home Health Care Agencies
About At Home
We understand that different circumstances require different types of care solutions. CareBuilders at Home specializes in personalized at-home caregiving to meet your needs.
Our caregivers go beyond basic companionship and housekeeping services to provide sensitive, confidential personal care services while maintaining focus on emotional well being and client safety. It's not always easy for seniors or disabled people to accept personal care, so it is essential that they have a warm relationship with their caregiver built on trust and genuine affection.
Talk with us if you think your loved one or family member is in need of personal and emotional care services, and we'll work with you to develop a customized care plan. Below are just a few examples of the kinds of care CareBuilders at Home can provide.

Core Services
• Dressing Assistance
• Bathing & Showering Assistance
• Continence & Toileting Care
• Oral Hygiene Care
• Personal Appearance Care
• Personal Hygiene Assistance
• Mealtime Eating Assistance
• Transfer & Posture Positioning

Supplemental Services
These services are typically provided in conjunction with personal care services:
• Errand Services
• Light Housekeeping
• Complete Meal Preparation
• Kitchen Cleaning and Organization
• Bathroom Cleaning and Organization
• Laundry and Ironing
• Linens Changing
Where We Care
CareBuilders at Home can provide care for your loved one even if they no longer live at home. In fact, our caregivers routinely work with managerial and supervisory staff in a variety of settings:
• Assisted Living Facilities
• Continuing Care Retirement Facilities
• Rehabilitation Centers
• Hospitals (sitter services)
Photos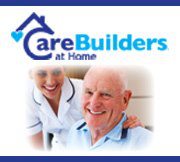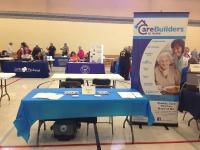 At Home Services and Certifications
Nursing Care

Physical Therapy

Occupational Therapy

Speech Pathology

Medical Social

Home Health Aid

Private Duty Home Care

Home Care

Medicare
Overall Rating:
For home care agencies that accept Medicare, the overall rating is the average of the quality of care and patient survey evaluations regularly done by Medicare.
More Info
Medicare Evaluation of the Quality of Care
The quality of care given at At Home is periodically evaluated by Medicare. The results of the most recent evaluation period are listed below to help you compare home care agencies in your area. More Info
Among patients with a recent hospital stay, the number of patients at this agency that were re-admitted to the hospital was worse than expected and the number that went to the ER without being re-admitted was better than expected.
Quality of Care:
This
Agency

PA

U.S.
Begins Patient Care in Timely Manner:

93%

92%

91%
Teaches Patients or Family About their Drugs:

94%

93%

92%
Checks Patients Risk of Falling:

99%

98%

99%
Checks Patient For Depression:

93%

96%

96%
Checks on Patients Flu Shot:

49%

77%

72%
Checks on Patients Pneumonia Shot:

51%

76%

71%
Foot Care For Diabetes Patients:

100%

95%

94%
Checks Patients For Pain:

95%

98%

98%
Treats Patients Pain:

100%

99%

98%
Treats Heart Failure Symptoms:
n/a *

98%

98%
Took Doctor Ordered Action to Prevent Bed Sores:

100%

97%

95%
This
Agency

PA

U.S.
Included Treatments to Prevent Bed Sores:

100%

98%

97%
Checked Patients For the Risk of Bed Sores:

95%

98%

97%
How Often Patients Improved Walking:

72%

63%

60%
How Often Patients Improved Getting Out of Bed:

42%

59%

55%
How Often Patients Improved Bathing:

63%

66%

65%
How Often Patients Had Less Pain Moving Around:

64%

67%

65%
How Often Patients Breathing Improved:
n/a *

0%

0%
How Often Patients Wounds Healed After Operation:

100%

90%

90%
How Often Patients Improved Taking Medication by Mouth:

44%

52%

49%
How Often Patients Needed Urgent Care From the ER:

13%

12%

12%
How Often Patients Had to be Admitted to the Hospital:

13%

16%

15%
*
The number of patient episodes for this measure is too small to report.
Reviews from Patient Surveys
These At Home reviews tell you the opinions of the patients receiving care from agencies that are Medicare-certified. Every participant took the same survey so it is a useful way to compare At Home to other home care agencies. More Info
This
Agency

PA

U.S.
Home Health Team Gave Care in a Professional Way:

91% *

89%

89%
Communicated Well With them:

81% *

88%

86%
Discussed Medicines Pain & Home Safety:

85% *

85%

84%
Gave their Home Health Agency a Rating of 9 or 10:

88% *

87%

85%
This
Agency

PA

U.S.
Would Recommend the Home Health Agency to Friends & Family:

81% *

81%

80%
Completed Surveys:
94 *
63,053
1,138,976
Response Rate:

39% *

35%

32%
*
Fewer than 100 patients completed the survey. Use the scores shown, if any, with caution as the number of surveys may be too low to accurately tell how an agency is doing.
Cities Served by At Home
At Home serves ZIP codes that encompass all or part of each of the cities listed below.
Allentown, PA
Bath, PA
Bedminster, PA
Bensalem, PA
Bethlehem, PA
Brigantine, NJ
Bristol, PA

Coplay, PA
Croydon, PA
Easton, PA
Emmaus, PA
Fairless Hills, PA
Feasterville Trevose, PA
Hatboro, PA

Hellertown, PA
Huntingdon Valley, PA
Jamison, PA
Langhorne, PA
Lansdale, PA
Lehighton, PA
Levittown, PA

Morrisville, PA
Nazareth, PA
New Hope, PA
New Tripoli, PA
Newtown, PA
Northampton, PA
Pen Argyl, PA

Philadelphia, PA
Rego Park, NY
Richboro, PA
Schnecksville, PA
Souderton, PA
Southampton, PA
Upper Black Eddy, PA

Warminster, PA
Washington Crossing, PA
Whitehall, PA
Willow Grove, PA
Wind Gap, PA